Dental Implants
Your Smile Starts Here!
Highland Ranch patients trust us to replace missing teeth in a way that looks and feels natural. The #1 choice of dentists and patients alike for tooth replacement, implants are loved for their strength and security. Ask the Twiss Dental team about implants today!
Missing teeth can be embarrassing.
If you find yourself hiding your smile or your self-esteem is suffering because you are missing teeth, dental implants may be a great option for you. Not only do implants help you regain a strong, natural-looking smile, they prevent other teeth from shifting out of place and prevent bone loss in the underlying jawbone. The Twiss Dental team are sensitive to the emotional and physical hardships a missing tooth or teeth can create. We provide dental implants so our patients can regain their self-confidence, improve their health, and approach life boldly with a proud smile.
What is it like to get a dental implant?
First, our team will take X-rays to determine whether you are a good candidate for implant surgery–and, if not, what it will take to get you there. Twiss Dental will work with you to come up with the best way to replace your missing teeth, even if that means conducting additional procedures beforehand to prepare a strong foundation for your upcoming implants. Before we begin the procedure, your gums need to be healthy and your jawbone needs to be strong. If we identify cavities or signs of gum disease, those issues will have to be resolved prior to any dental implant procedure.
Once you are cleared for the procedure, the team will take an impression of your mouth to create a new tooth in a dental lab. Each synthetic tooth will match the size, shape and shade of your ideal natural teeth.
Teeth restored with implants will not get cavities. A replacement tooth, or crown, does not decay like a natural tooth. However, you still need to brush, floss and care for it and your surrounding natural teeth in the same was as natural teeth. Regular professional cleanings and dental checkups are also essential.
The next step is to implant a metal post under the gum line. The metal post is secured to the jawbone in order to create a durable, synthetic root system that rivals the strength of natural roots. Over the course of a few of months, the metal post and jawbone will fuse together. This creates a level of durability that ensures your implant will last a long time.
After the fusion is complete, we will secure the new synthetic tooth to the metal post at the surface of the gums. The new tooth is attached so securely, you can eat your favorite foods, maintain an active lifestyle, play sports, and more. We know you will be thrilled with the results of your dental implants.
Implant Supported Dentures
Patients who have lost all their teeth from one or both arches are often worried they will need to replace each individual tooth with an implant, but this is not the case! Even if you are edentulous (without teeth), Twiss Dental can strategically place a few dental implants that secure a permanent or semi-permanent denture. This means you can get a durable implant-supported smile supported by 4 to 6 implant posts per arch.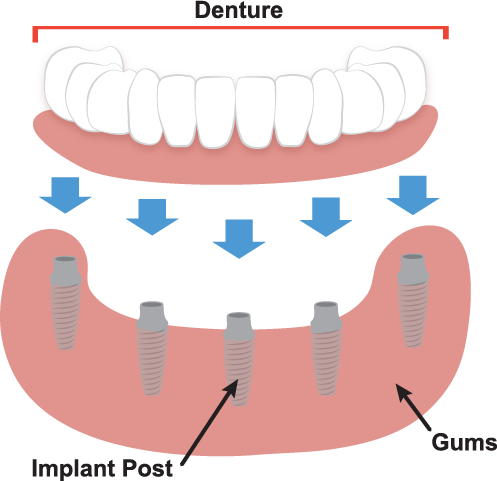 Caring for Your Dental Implants
Maybe the best thing of all about dental implants is how easy they are to care for. Once the process is complete, implants need to be cared for just like natural teeth: brush twice a day, floss twice a day, and visit Twiss Dental twice a year for your regular checkups and cleanings.
Financial Policy
Twiss Dental provides high quality dental care to families throughout the Highlands Ranch area. We understand that every dental patient has different financial needs. We will work with you to find a solution that enables you to get the dental care you need. We also offer an in-house dental plan. Our in-house membership plan is perfect for individuals or families.
For one low payment of $249 per year, you receive:
Two cleanings
X-rays
Dental exam
20% off any treatment/services needed
And, for an additional $195 you can add additional family members to the plan. For more information about our membership plan call us at

Compassionate Finance®
Compassionate Finance is a turn-key, fully managed financing program that helps patients get the care they need, affordably. Personalized payment plans provide flexible terms, fixed interest rates, and allow patients to pick the plan that works best for them. The approval process is quick and easy, and it just takes an active bank account to get started.

CareCredit®
CareCredit® is one of the leading healthcare credit cards accepted at over 175,000 providers nationwide. Pay upfront for necessary procedures and make affordable monthly payments that work with your budget. CareCredit financing is flexible, convenient, and the application process is simple.