Cosmetic Dentistry in Highlands Ranch
When Your Smile Looks Good, You Feel Good
Cosmetic dentistry includes a wide array of services. At Twiss Dental in Highlands Ranch, we want all our patients to smile with confidence, and we believe we have the tools to make it happen. No matter if you have slight staining you'd like to take care of, or a more extensive case of missing or misshapen teeth—there are many options available to handle any imperfection, within any budget. If you have something you'd like to change about your smile, we're glad you're here. We take smiles seriously and can't wait to make yours shine.
Tooth-Colored Fillings
If you need a filling and live in the Highlands Ranch area, we provide tooth-colored fillings for patients who need them. Twiss Dental loves to provide our patients with beautiful, natural-looking restorations. Tooth-colored composite fillings are one of the most popular procedures we perform–they are fast, affordable, durable restorations for tooth decay that is virtually impossible to detect once complete.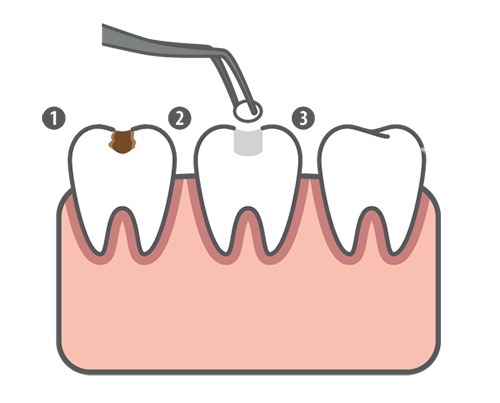 Silver vs. Tooth-Colored Fillings: What You Should Know
Tooth-colored fillings have been said to be a safer option compared to metal fillings. Some point to the mercury contained in the metal alloy as being harmful to your health. Ultimately, it is up to you and your doctor to decide what is best for you. We are here to answer any questions you may have regarding composite or metal fillings. We also replace metal fillings if that is something you'd like to consider.
The biggest advantages of composite vs. amalgam fillings is composite tooth-colored fillings do not stand out. If you have a cavity and need a filling, you can have a filling made to match the natural shade of your tooth. Tooth-colored fillings are comparably durable to amalgam. However, it depends on how well you care for your teeth. It's important to stick to a regular home hygiene routine and be careful not to chew excessively hard or sticky foods or use your teeth as tools. You can care for your composite filling just like the rest of your teeth. Fillings are meant to restore your tooth structure both in appearance and in functionality, they are long-lasting, and you should be back to living your normal life the same day you have a filling placed! If you have questions about tooth-colored fillings, please give us a call at (720) 710-0629 to schedule an appointment.
"Had to have a filling replaced. I get really stressed out when I have to get numbing shots. Yes, I'm a complete whimp. I added the nitrous gas and Dr Twiss was great about letting me know what he was doing and when. I'm sure the gas helped me "not stress" as much but once the numbing topical was put on, I didn't feel a thing. He was done in about 25 minutes."
Dental Bonding
If you damage your tooth and are searching for a natural-looking restoration, consider restorative bonding. For this procedure, your Highlands Ranch dentists will apply tooth-colored resin material, shaping the resin until it looks exactly like your natural tooth or teeth did. The resin is then set with a special dental light that bonds it to the tooth. If you have chipped teeth, gaps between teeth, cracked teeth, or misshapen teeth, dental bonding is a simple and affordable cosmetic procedure with enormous positive cosmetic impact.
At Twiss Dental, we can complete a dental bonding procedure to restore your damaged tooth or to make aesthetic changes that will improve the appearance of your smile. This cosmetic dentistry solution is affordable, durable, and long-lasting. It is also non-invasive, making it an ideal restoration for children and adults who are too busy for alternative procedures like dental veneers and crowns. Dental bonding is a dependable and effective cosmetic solution to take your smile from ok to amazing. Cosmetic bonding can also be used for children. If your child chips a primary or permanent tooth, we can quickly correct the chip safely in our office. If you want to learn more about restorative bonding, we encourage you to call our dental office at (720) 710-0629. We can meet with you, examine your teeth, and discuss how a bonding procedure can help improve your smile.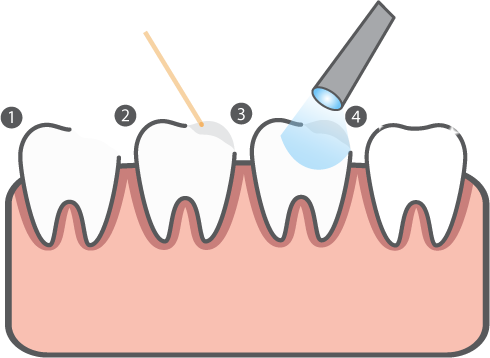 Dental Bridges and Crowns
We treat our patients like royalty
At Twiss Dental, we provide dental crowns and bridges for patients throughout the Highlands Ranch area. These procedures are effective for restoring a tooth that has become infected, damaged, or has fallen out. We can complete these procedures in a way that looks natural while resolving oral health issues. Crowns and bridges help you regain the functionality of your tooth without giving away the secret that you've had dental work.
What are dental crowns?

A dental crown is a cap that covers and strengthens a severely decayed or damaged tooth. Crowns are typically all-metal, ceramic-on-metal, or all-ceramic in construction. The location of the crown and the individual dental case determines the best material to use.
Twiss Dental offers same-day crowns thanks to CEREC® technology, a revolutionary advancement in the field of restorative dentistry. We are excited to bring our patients same-day restorations right here in Highlands Ranch.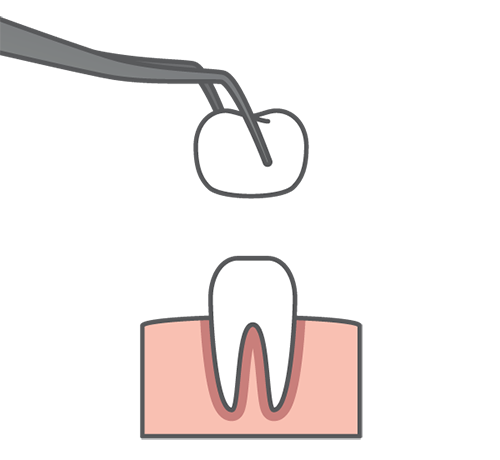 What are dental bridges?
A dental bridge is a way to replace a missing tooth without wearing dentures or undergoing surgery. The new, artificial tooth of a bridge–called a pontic–is held in place between two adjacent crowns. The lifelike pontic looks natural, is made of ceramic or porcelain, and is color-matched to your surrounding teeth. Your Highlands Ranch dental team at Twiss Dental will make sure your smile looks and feels amazing.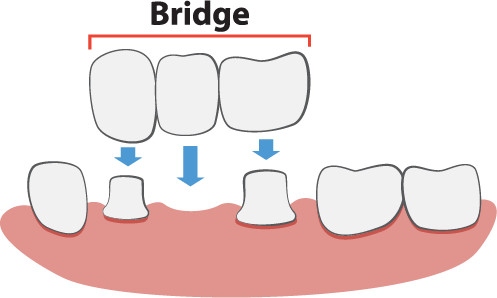 Dental Veneers
New smile, new you
A dental veneer is a thin shell made from porcelain or ceramic. The shade of the veneer–along with its shape and size–will be customized to match your surrounding teeth so that it blends in seamlessly. Veneers close gaps, make teeth appear even in length, cover dark stains, and in general, create a straight, bright smile overall.
If you are interested in getting veneers, Twiss Dental begins by making sure your teeth are healthy enough to accept the veneers successfully. If they are, impressions are made of your teeth and sent to our dental lab. Your veneers are then hand-crafted to match and enhance the size, shape, and color of your teeth. While your permanent veneers are being created, we will prep your natural teeth and place a set of temporary veneers. Once your permanent veneers are ready, you will come back into our Twiss Dental office so we can remove the temporary set and ensure that the new veneers are a perfect fit. Once the veneers have been adhered to your teeth, boom! Your dream smile has arrived!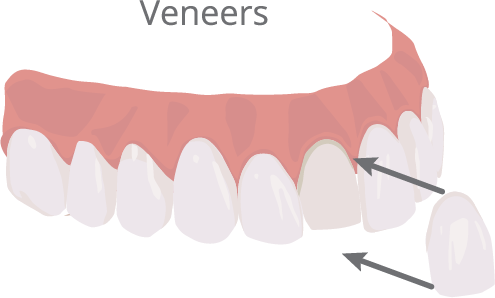 After the procedure
Your teeth may be sore for a few days after the preparation phase and after placing the permanent veneers. During this time, you can take over the counter pain medication to help you stay comfortable. Patients can also benefit from getting rest and using a cold compress to reduce any swelling. We recommend patients watch what they eat for a few days and stick with foods that are soft. The short recovery is minimal compared to the amazing results you will love for years to come!
Smile Makeovers
We turn everyday smiles into extraordinary smiles
If there is something you'd like to change about your smile–big or small–Twiss Dental can make it happen! We believe everyone can have a smile they love showing the world.
Every smile makeover begins with a consultation that includes an exam and a conversation about your expectations and smile goals. Depending on your situation and budget, we can select any one or combination of cosmetic and restorative procedures like teeth whitening, dental veneers, dental crowns, and dental implants to design a treatment plan that fits your life and schedule and get your smile where you want it to be.
Teeth Whitening
Teeth whitening is the most popular cosmetic dental procedure around, which makes sense, since the #1 cosmetic concern among adults and teens is whether their teeth are white enough. If you need a little pick-me-up and would like to eliminate stains, an in-office whitening procedure at Twiss Dental can whiten your teeth by up to eight shades in just a single office visit. Or, if you prefer to whiten on your own time, we also offer a take-home whitening treatment for your convenience.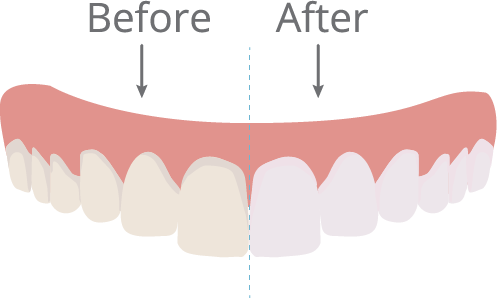 Before & After Teeth Whitening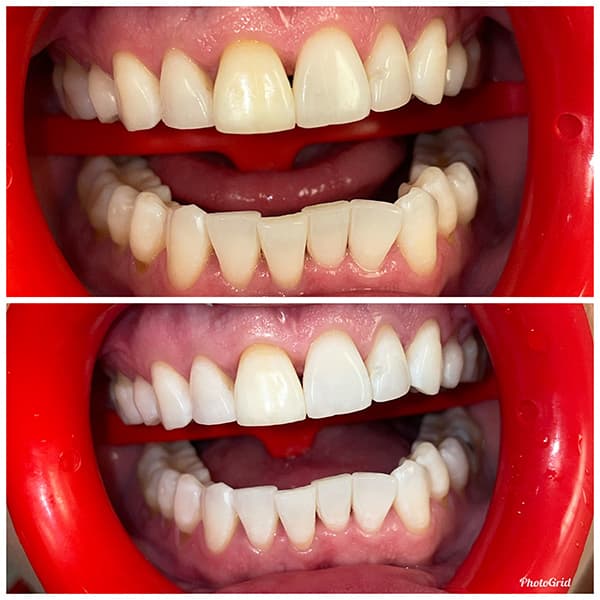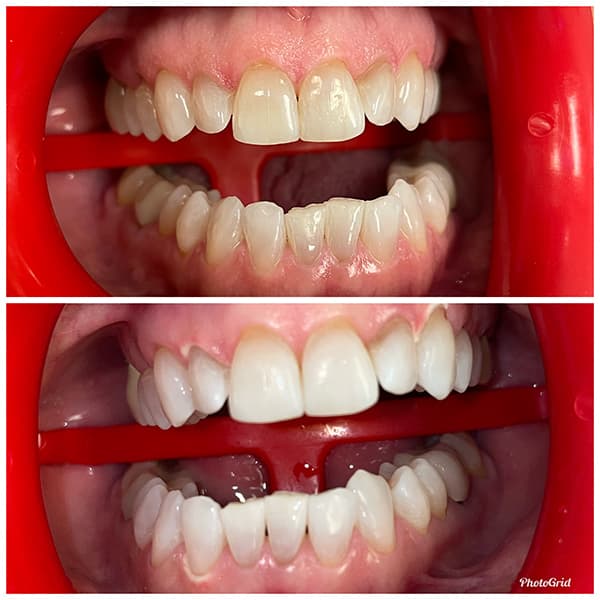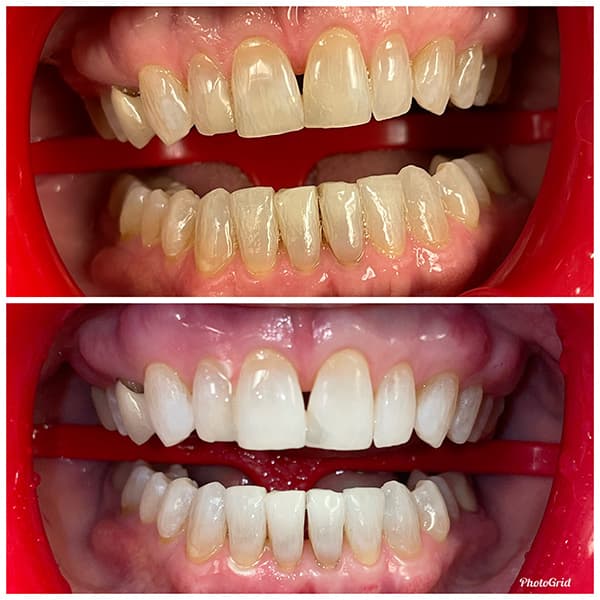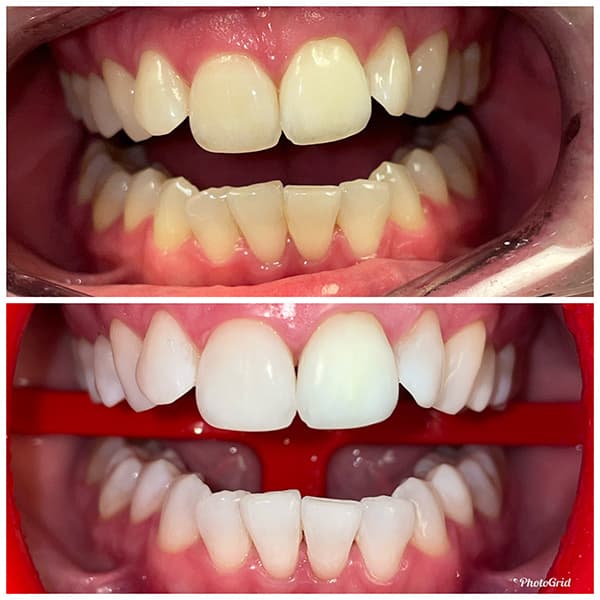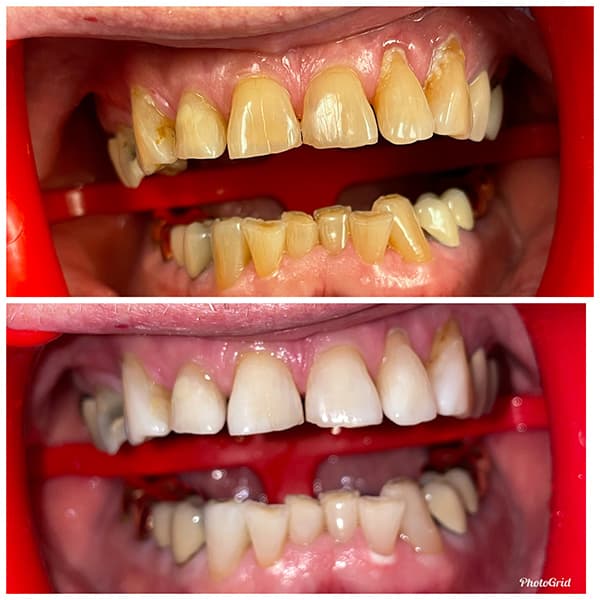 Our patients trust the Twiss Dental team to replace missing teeth in a secure way that looks completely natural. Dental implants are an excellent way to restore missing teeth because once the procedure is completed, you can enjoy all your favorite activities and foods without worry.
For a dental implant procedure, a metal implant post is secured to the jawbone in the gums. In a few weeks' time, the bone and metal fuse together in order to regenerate a replacement tooth root system. Once healed, a new artificial tooth is secured to the implant post for a beautiful, lifelike smile. To discuss a complete smile makeover, schedule an appointment with your Highlands Ranch dentists today!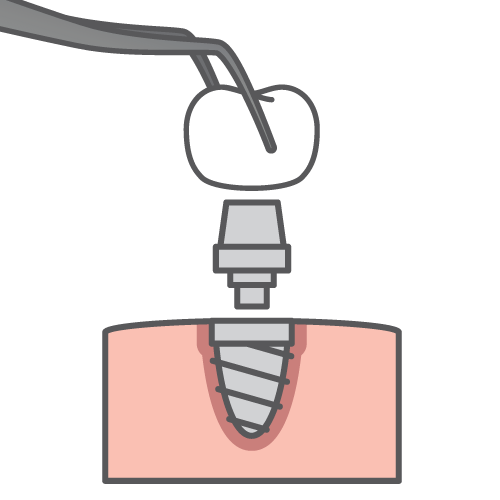 Financial Policy
Twiss Dental provides high quality dental care to families throughout the Highlands Ranch area. We understand that every dental patient has different financial needs. We will work with you to find a solution that enables you to get the dental care you need. We also offer an in-house dental plan. Our in-house membership plan is perfect for individuals or families.
For one low payment of $249 per year, you receive:
Two cleanings
X-rays
Dental exam
20% off any treatment/services needed
And, for an additional $195 you can add additional family members to the plan. For more information about our membership plan call us at (720) 710-0629.

Compassionate Finance®
Compassionate Finance is a turn-key, fully managed financing program that helps patients get the care they need, affordably. Personalized payment plans provide flexible terms, fixed interest rates, and allow patients to pick the plan that works best for them. The approval process is quick and easy, and it just takes an active bank account to get started.

CareCredit®
CareCredit® is one of the leading healthcare credit cards accepted at over 175,000 providers nationwide. Pay upfront for necessary procedures and make affordable monthly payments that work with your budget. CareCredit financing is flexible, convenient, and the application process is simple.