What Are Those Bumps? Oral Tori
Posted on November 14th, 2023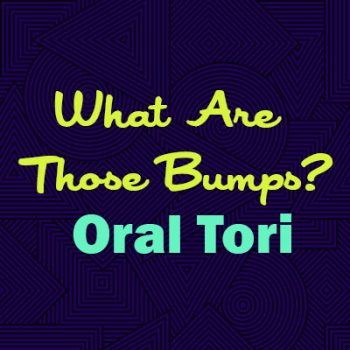 Unusual shapes and growths can be alarming anywhere in the body. If you've noticed hard bumps growing in your mouth, you might have oral tori. 
What are Oral Tori?
Tori (or a single torus) are bumps in the mouth made of bone tissue covered by gum tissue. They grow slowly and some people have them without ever noticing them! There are three kinds of tori, each named differently based on their location:
Buccal exostoses

: tori on the back, upper gums, on the cheek side

Maxillary/palatal tori

: on the roof of the mouth

Mandibular lingual tori

: on the lower jaw, under the tongue
Tori are more common among males than females. (Although palatal tori are twice as likely to occur in women than men.) They appear to be genetic. Tori can appear in groups of various shapes and sizes, or you can have just one torus. If you have a torus on one side of your mouth, it's likely that you'll also have another one on the other side.
Tori have been referenced and studied for at least 100 years, but truth be told, we don't totally understand what causes them. Some dentists believe that people who grind their teeth and clench their jaw are more likely to develop tori. Others believe that tori result from facial or jaw injuries or trauma. 
Are Tori Dangerous?
Tori are considered normal and harmless. Phew! Tori may, however, get in the way of dentures or orthodontics in some cases. Or they may grow to a point and touch in the middle of the mouth. In these cases, your dentist may recommend treatment and removal to ensure optimum comfort and function. So long as they don't interfere with your daily life and ability to eat, speak, or care for your oral health, tori are not a problem.
Tori should not hurt but they can get injured if you accidentally scrape them while eating. If this happens, keep the wound clean with mouthwash or a saline rinse to prevent infection.
Although they are extra growths, tori are not cancerous. Signs of oral cancer include sores, thickening oral tissues, unexplained bleeding or numbness, trouble swallowing, and a change in how your dentures fit. If you have any concerns about oral cancer, you should see us today for an oral cancer screening.
Treating Tori
Your Highlands Ranch dentist will monitor the tori shape and size and how they affect your general health. In the rare case that you do need the tori to be removed, your dentist or oral surgeon will perform an oral surgery procedure. The oral surgeon will expose the bone tissue, remove it, and level the mouth surface. As with any surgery, you'll be sore for a while afterward, and you'll see the dentist about a week later for a post-op checkup.
If you need help living with tori, or you have any other oral health needs, make an appointment to come in and see Twiss Dental today!
The content of this blog is not intended to be a substitute for professional medical advice, diagnosis, or treatment. Always seek the advice of qualified health providers with questions you may have regarding medical conditions.
About Tyler Twiss, DMD, MBA
Dr. Twiss grew up in Tulsa, Oklahoma. He is married with four children and loves being involved with them as they grow up. Dr. Twiss has spent extensive time in advancing his dental education. He received his Fellowship with the International Congress of Oral Implantologists, spending over 150 hours in training with world-renowned implant pioneer Dr. Carl Misch. In addition to dental implants, Dr. Twiss has extensive training in orthodontics, Invisalign®, laser gum surgery, and CEREC® one-visit porcelain crown technology.