Is it Ever Too Late for Dental Work?
Posted on August 27th, 2021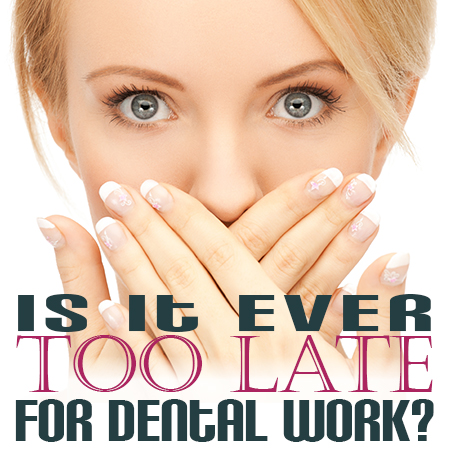 Let's be honest. If you are like most people, you've probably put off going to the dentist at one time or another. Some of us have even avoided seeing a dentist for years at a time. Research shows one in three Americans avoids going to the dentist regularly. As the time spent away from Dr. Twiss's chair adds up, so does the cost of potential dental work.
You start to feel and even see that your teeth are not in good shape. Plaque and tartar buildup, toothaches, sensitivity to hot and cold, bleeding gums, deep, dark stains, perhaps even loose, clearly decaying teeth. Either way, by the time you get to this point you are probably wondering—is it too late to see the dentist? Here's what Twiss Dental has to say when it comes to oral health:
It is never too late to seek dental care! 
No matter how old you are, what condition your teeth are in, or how long you've been avoiding a trip to your local Highlands Ranch dentist, there is something we can do to help. Even if you are missing all your teeth, we can still help restore your oral health, smile, and quality of life. Going to the dentist—even when there is nothing wrong—is the key to three important parts of your oral health:
Diagnosis and early treatment of any issues – Twiss Dental can detect tooth decay, gum disease, even signs of oral cancer before they become serious. Preventive care is truly the best medicine when it comes to your smile.
Keeping dental care costs down – One of the main reasons people avoid the dentist is for fear of the cost. The longer you wait, the more expensive it gets, and the more time you will have to spend in Dr. Twiss's chair. If you need additional help working treatment into your budget, we're happy to offer flexible financing options to help you get the care you need when you need it.
Maintaining a beautiful, healthy smile – At Twiss Dental we put your oral health needs first, so we really mean it when we say don't hesitate to ask us any questions! We offer everything from simple fillings to full mouth rehabilitation services and we'll work with the needs of you and your family to give you the healthy, radiant smile you deserve. 
Contact your Highlands Ranch dentists, Dr. Twiss at Twiss Dental today to schedule an appointment! 
The content of this blog is not intended to be a substitute for professional medical advice, diagnosis, or treatment. Always seek the advice of qualified health providers with questions you may have regarding medical conditions.
About Tyler Twiss, DMD, MBA
Dr. Twiss grew up in Tulsa, Oklahoma. He is married with four children and loves being involved with them as they grow up. Dr. Twiss has spent extensive time in advancing his dental education. He received his Fellowship with the International Congress of Oral Implantologists, spending over 150 hours in training with world-renowned implant pioneer Dr. Carl Misch. In addition to dental implants, Dr. Twiss has extensive training in orthodontics, Invisalign®, laser gum surgery, and CEREC® one-visit porcelain crown technology.