Have You Been Avoiding the Dentist?
Posted on January 17th, 2023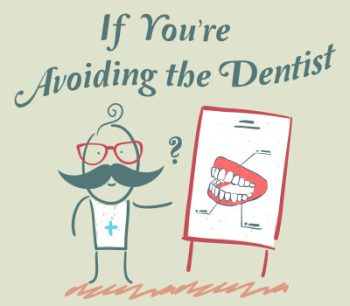 We've all got our reasons. Money. Time. The fear of pain. Juggling insurance. Facing one more reminder that we really should be flossing more. Any of these might cause us to avoid and put off regular visits to the dentist.

Has it been so long since you saw a dentist that you're not even sure how to find a dentist you can trust? Or perhaps you know and love your dentist, but you dread the idea of trying to catch up on life with the hygienist while your mouth is being propped open by a tiny plastic jack. (Yes, we think about that too!)

Highlands Ranch dentist, Dr. Tyler Twiss, and our staff are happy to help you prioritize your dental health, which is why we go to great lengths to remove any barrier that might keep you from stepping through our doors.
Sedation options, flexible payment plans, plentiful office hours, and a skilled dental team can help you achieve your best smile. Our relaxed office is comfortable from the waiting room to the dentist's chair. Twiss Dental is completely up to date with the latest technology for any service from oral hygiene to professional whitening services and tooth repair.
"I am embarrassed by my smile."
"It has been too long since my last dental cleaning."

What's keeping you from the dentist now can end up being what brings you back in later. Remember – dentists are also human. They have teeth and sometimes need to be reminded to floss, just like you. 
Twiss Dental wants to hear your concerns and do everything we can to help you work through them. We can even offer a warm neck pillow, just to make sure your visit is a little more comfortable. Avoiding the dentist is nothing to be ashamed of, but dental checkups are still an important step in oral cancer screening and preventing gum disease.
Oral health is not only essential for strong teeth and fresh breath but it can also dictate other lifestyle and well-being factors such as heart health and self-esteem. We can think of so many reasons (beyond just keeping your teeth in your head) that make seeing the dentist worthwhile.

In a world that rewards multitasking and instant results, it can be difficult to think ahead and prioritize seeing the dentist. Contact Twiss Dental today to allow us to serve you and your dental health needs. And after your appointment, let's go right ahead and schedule that next visit!
The content on this blog is not intended to be a substitute for professional medical advice, diagnosis, or treatment. Always seek the advice of qualified health providers with questions you may have regarding medical conditions.
About Tyler Twiss, DMD, MBA
Dr. Twiss grew up in Tulsa, Oklahoma. He is married with four children and loves being involved with them as they grow up. Dr. Twiss has spent extensive time in advancing his dental education. He received his Fellowship with the International Congress of Oral Implantologists, spending over 150 hours in training with world-renowned implant pioneer Dr. Carl Misch. In addition to dental implants, Dr. Twiss has extensive training in orthodontics, Invisalign®, laser gum surgery, and CEREC® one-visit porcelain crown technology.